Sub-Majors
The Faculty of Law offers courses in foreign languages, humanities, natural sciences, and other fields so that students may acquire a broad range of knowledge and a thorough liberal arts education. However, it goes without saying that factual knowledge and a solid liberal arts grounding can only be developed into a comprehensive worldview if studied systematically. Taking "Area Studies on Culture" courses I through IV, for example, gives students a means for learning systematically while expanding their knowledge. In addition, there are Humanities and Natural Sciences seminars for third- and fourth-year students in which they can apply the knowledge acquired in the first two years. After completing specific academic requirements, students qualify for a minor and receive an official certificate from the Faculty of Law. Please refer to the Faculty of Law Sub-Major Accreditation System page (Japanese)  of the Keio University Student Website for a list of Humanities and Natural Sciences seminars being offered this year as well as examples of outstanding graduation projects.
Examples of Accredited Sub-Major Themes Offered in AY 2022 (Humanities/Natural Sciences Seminars)
American Culture, North Korean Studies, France–Japan Relations
The Arab World as Understood Through Video, Novel Reading and Writing
Culture and Society of the Iberian Peninsula, Poetry Reading and Writing
Japanese Thought and Culture, Culture and Society of Russia
Linguistic Analysis, 21st Century Film Studies, Contemporary German Studies
Latin American Culture and Society, Chinese and East Asian Security
British Culture & Society and the Media, Issues in the Life Sciences
Bridging the Natural Sciences and the Humanities: Studying Environmental History
An example of an accredited sub-major: Biology
First and Second Year
Laboratory Courses (required): Biology I and II (3 credits per semester, 6 credits total)
Natural Science Courses: Psychology I and II (2 credits per semester, 4 credits total), Composite Lecture In Natural Science I (2 credits per semester), etc.
Third and Fourth Year
Seminar In Natural Science III and IV [Biology] (2 credits per semester, 4 credits total), etc. + Graduation Research → 16+ credits total
 
The sub-major accreditation system also encourages students to explore new fields of knowledge unhindered by existing academic disciplines. Students are not limited to the model listed above. They can, for example, take two seminars—one in the humanities and one in the natural sciences—and write papers that span both of those fields.
Seminars in Humanities
Religions and Societies of the World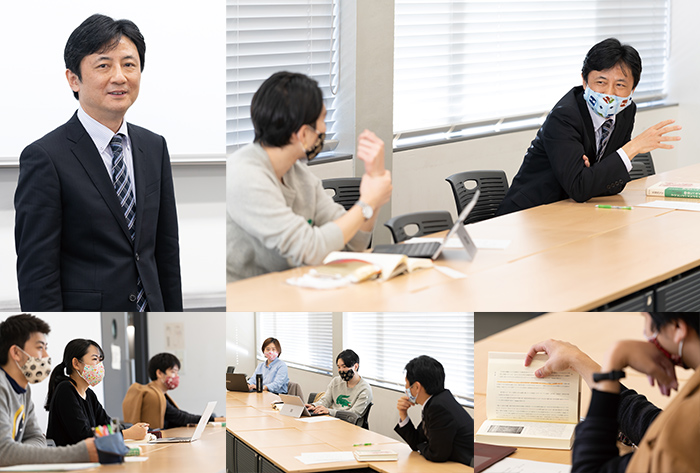 Prof. Norihiro OKUBO
You may think there is something suspicious or dangerous about religion. And you're right, religion can come between relationships, and it has long played a role in social turmoil and war. On the other hand, religion has also brought peace of mind to people and enriched culture, thought, and art, in some ways contributing to the stability of society. In any case, it is critical to consider religion when thinking about people, culture, and society.
The purpose of studying religion at the university level is not to merely look at its pros and cons and defend or denounce them but to analyze how religion has influenced culture, society, law, and politics in different regions and time periods. In this Seminar in Humanities, students will look at and analyze various issues and phenomena related to religion, such as the Crusades, the Siege of Mount Hiei, the religious right  in the United States and French laïcité secularism , the diversification of funerals and cemeteries, euthanasia and brain death, pilgrimages, and the popularity of things like Halloween and yokai anime.
My Current Research
Student A, Department of Political Science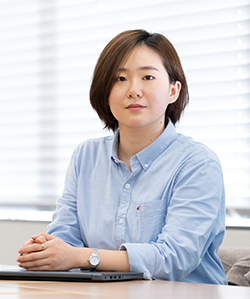 In my interactions with friends from different countries, I felt that I needed to learn about the religions that underpin different cultures in order to understand them better. As a first- and second-year student at Hiyoshi Campus, I took a course called Introduction to East Asian Religion And Culture, where I learned about the importance of religion in influencing the formation of nations as well as culture. As a third- and fourth-year student at Mita Campus, I belonged to a seminar on international relations but also wanted to learn more about religion, so I decided to join Prof. Okubo's Seminar in Humanities to earn a sub-major. In class, we gain knowledge of religion and learn how to analyze it while reading texts. We also give research presentations based on our own understanding of the issues. I am interested in the Japanese view of life and death and am deepening my understanding of the topic through discussions with my peers.
Performing Arts Research: Looking at American Culture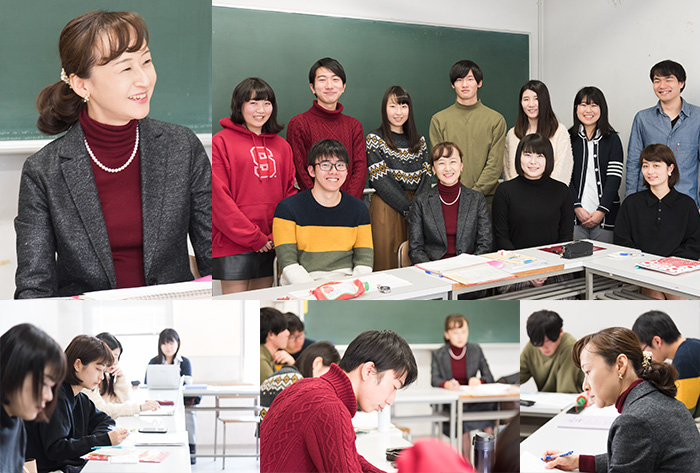 Prof. Nahoko TSUNEYAMA
In this seminar, students examine American society and culture from colonial times to the 21st century through the lens of the performing arts. The seminar looks at not only play scripts, but physical expressions such as dance, Broadway musicals, Hollywood movies, television, Disney, and more. We examine how these representational arts are influenced, both consciously and unconsciously, by the political economy, nation, people, and ideologies and religion of the time, highlighting the image of "America" that is reflected in these works.
There are a number of approaches involved in this process. For example, one could consider these works from the perspectives of race, gender and sexuality, class, or regionality, make comparisons with other countries, or look at how they were received in Japan. One could even consider sports, theme parks, and court cases as performance in the broadest sense of the word and make those the subject of their research.
Through each student's individual research, I look forward to learning about various performances and scenes together with students over the next two years.
The seminar will offer an accredited sub-major in the field of "American Culture and Society." In addition, a sub-major in "Art Critique and Creative Writing" will be awarded for topics outside of the United States, such as theater studies, film studies, and studies of other international performances (Viennese and French musicals, Shiki Theatre Company, Tokyo Takarazuka, non-Hollywood films, etc.) as long as they have a basis in research on performing arts in the United States.
American Culture And Society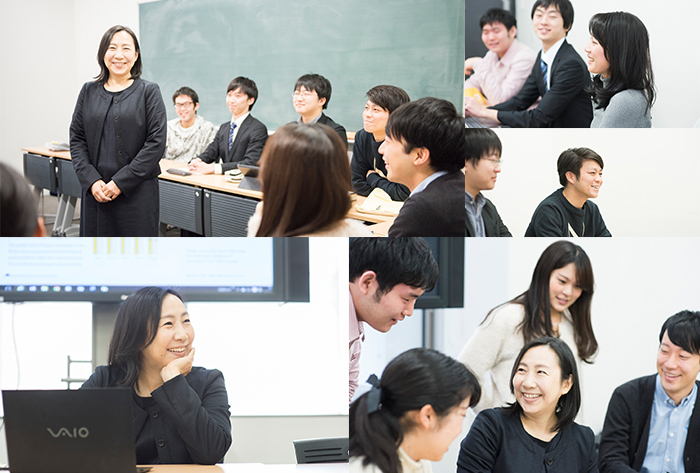 Prof. Akiyo OKUDA
This seminar looks at the current state of the United States as a nation, focusing mainly on issues related to race and ethnicity. While the topics covered in the seminar are serious, such as discrimination and violence, students choose their own paper topics, so they can be on any number of topics, including megachurches, Disney movies, LGBT fraternities, and so on. A sub-major not only allows students to systematically study an area they are interested in, but also allows them to take a cross-disciplinary approach while using their understanding of politics and law. During the 2016 US presidential election, for instance, we examined American politics from the perspective of minority populations.
〈Students Voices〉
– I really liked this seminar for its small group sizes and friendly atmosphere. Students get to know the professor fairly well and are able to share even the smallest of insights and ask all kinds of questions. And because the students come from diverse backgrounds, it allows for more multifaceted conversation. The seminar is an important place where students can learn about what truly interests them. (Fourth-Year Student)
– Seminars aren't limited to current events such as racial issues or the U.S. presidential election. We are also able to use movies, musicals, and other materials to decipher the issues facing American society, which is something unique to the Seminars in Humanities. (Fourth-Year Student)
In the first semester, we deepened our understanding through presentations and discussions while reading texts, and in the summer, all of the students took a short trip together where we watched movies and got to know each other better. In the second semester, each student will work on writing a thesis on a topic of their choosing. Even while working on our papers, everyone in the seminar shares their ideas with each other, which often leads to new insights. (Third-Year Student)
Latin American Studies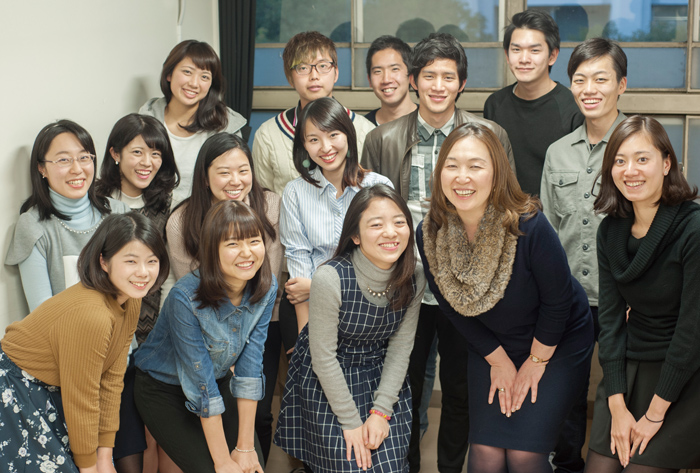 Prof. Yuuko HONYA
In my Seminar in Humanities sub-major, we attract people who are fascinated by the richness and diversity of Latin American culture and society. In addition to our usual literature studies, we sometimes leave the classroom to do fieldwork, learning about the reality of Latin American culture that has taken root in Japanese society. Sub-majors allow students to systematically study a specific country or region starting their first year, and in courses dealing with the societies and cultures of the Spanish and Portuguese-speaking world, those with the intellectual curiosity and drive are able to freely explore learning opportunities offered by three professors across the Seminars in Humanities in accordance with their own academic interests. This is something unique to the Keio Faculty of Law, which offers a number of sub-major courses that cover the Spanish and Portuguese-speaking world, which is a melting pot of different cultures.
In 2015, my Seminar in Humanities focused on the theme of Japanese products entering the Latin American market, where students learned about the mechanisms and strategies of cross-cultural acceptance and NGO activities that link Japan and Latin America. This led to students selling products at the Mita Festival in November that were all made from the bounty of Latin America—chocolate, quinoa, and coffee. All proceeds went to Aoi Sora no Kai, an NGO that supports education for young children in Guatemala.
Students are now hard at work taking all that they have gained through studying, experiencing, and thinking about Latin America and translating it into a new rewarding experience in the form of their sub-major thesis. Thanks to the flexible thinking and boldness of these students, I have also had the pleasure of learning more about Latin America.
Music as Cultural Phenomenon: Studies in American Popular Music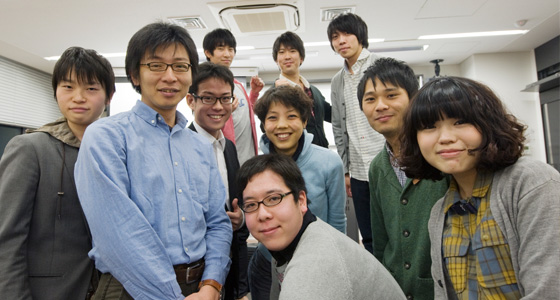 Prof. Toshiyuki OHWADA
Blues, country, jazz, rock and roll, hip hop—my Seminar in Humanities treats the popular music that has emerged in the United States as an "academic" subject. How did the evolution of the music industry affect the birth of rock and roll? How do blues and country music fit into the history of the American South? What is the relationship between the hip hop genre and the current copyright system? By asking these kinds of questions, we can look at pop music as a "cultural phenomenon" that we come into contact with on a daily basis.
In this seminar, students deepen their understanding of American culture by reading academic papers on Popular Music Studies, which is already a well-established field in the English-speaking world. This means students will have the opportunity to view music as an object of analysis at a certain critical distance, describing music using different terms than usual, which are normally based on taste ("I like it" / "I hate it") or value judgments ("this is cool" / "this is uncool"). The seminar culminates in fourth-year students writing an in-depth paper on a topic of their choosing, while third-year and other students create a music magazine that gets distributed at the Mita Festival. Through these activities, students have the chance to examine American society and history through the analysis of popular music and, at the same time, explore and discuss more fundamental questions concerning culture and language.
What is 'Film History'?—From British Cinema to the World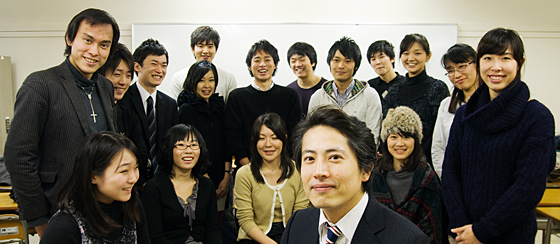 Prof. Motonori SATO
In my Seminar in Humanities, students will consider the philosophical question of "what is film history?" by first viewing and discussing British films. The audiovisual medium of film allows us to understand the culture of a particular country or region not just as academic knowledge but as a total human experience, complete with human emotion and physical sensation. If that is the case, then by expanding our cinematic interests to the East and to the West, beyond one particular era and region, we literally open ourselves up to the world.
In this year-long seminar, students learn together, with no distinctions made between the third- and fourth-year students. During the spring semester, students deepen their understanding of film history by watching various films past and present and learn methodologies for discussing films by reading basic film studies research. In the fall semester, students give multiple presentations and engage in in-depth discussions, culminating in the completion of a research paper on a topic of their choosing. Based on feedback from these activities, the students will begin to write their research papers, which will also be guided by group discussions and revisions.
This seminar is an opportunity to develop a global outlook that is demanded by globalization today, and to practice refining your own interests into a research paper.