Student Spotlight
Student B, Department of Law

I chose the Faculty of Law due to an interest in debate and would recommend it to any prospective students with similar interests.
I belong to a club called the Keio Debate Squad, in which we dedicate ourselves to English debate. In January 2019, the club attended the World Universities Debating Championship (WUDC) in South Africa, the world's largest university debate competition, becoming champions in the English as a Foreign Language category and taking home the 2019 President's Award.
The tournament was exhilarating, and we faced a formidable opponent from the University of Oxford in the first round. Doing mental gymnastics, I could feel myself growing in real-time, which I really enjoyed. Competing alongside the world's best debaters, and seeing the top of the world through friendly rivalry, was an experience that I will cherish for the rest of my life.
In Japan, people tend to dislike argument and debate. There is even a word, herikutsu, used to deride "argument for argument's sake," and I feel that this aspect of the culture is hindering Japan's development. As the future leaders of Japan, we must acquire the ability to argue and reason with the world.
I am studying negotiation, leadership, antitrust law, and international competition law in seminars under Professor Jiro Tamura. In particular, I want to learn more about negotiation and leadership, so I am currently on an exchange program at the University of Melbourne, Australia, studying organizational theory with a focus on management.
The Department of Law at the Faculty of Law offers the chance to live a varied and stimulating life because of the diversity of people you get to interact with. And because much of jurisprudence itself is based on resolving disputes, there is a culture that values discussion and can enhance one's ability to debate.
The possibilities at the Faculty of Law are endless, with many opportunities at your fingertips to study abroad and learn from professors working on the leading edge of their fields. Take advantage of these opportunities, and you will develop skills that will last a lifetime.
Student K, Department of Political Science

I am a member of the Keio Cheer Group. As a new student, I simply wanted to throw myself headfirst into something. In high school, I did competitive cheerleading and participated in competitions, but in university, I wanted to do something, not for myself, but something that would empower others, so I decided to join the Keio Cheer Group.
As an organization that contributes to Keio University in a wide range of ways, the Keio Cheer Group is mainly involved in cheering for the Athletic Association, participating in school events, and working with the Mita-kai (Alumni Association). The club is filled with people who are passionate and serious in everything they do, and no matter what year student you are, you will learn and discover new things in the Keio Cheer Group.
The most rewarding moments are when you see your efforts reflected in the athletes and fans who are happy that they chose Keio. These are the experiences that drive me, feeling the connection among the Keio community as the audience unites to sing "Wakaki-chi" or "Oka no Ue."
While it can be challenging to engage in an activity that itself has no clear wins or losses, this ambiguity offers endless possibilities where we can pursue new styles of cheer specific to our generation. Our squad is a diverse group unsatisfied with the status quo that is expected to take cheering in new and exciting directions.
To make that happen, I feel myself drawing on my ability to see things from multiple perspectives, a skill developed through my studies at the Faculty of Law. As a Political Thought and Political Philosophy major, I have learned that there are many ways to think about something, that there are no right answers, and that we have many opportunities to apply even the most abstract and complex ideas in our daily lives.
I believe that the Faculty of Law is a place that helps you grow into a bigger and better person. I sincerely hope that your student life will be a rewarding one filled with wonderful encounters.
My Current Research
Student A, Department of Political Science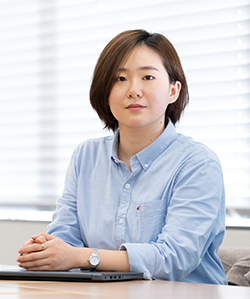 In my interactions with friends from different countries, I felt that I needed to learn about the religions that underpin different cultures in order to understand them better. As a first- and second-year student at Hiyoshi Campus, I took a course called Introduction to East Asian Religion And Culture, where I learned about the importance of religion in influencing the formation of nations as well as culture. As a third- and fourth-year student at Mita Campus, I belonged to a seminar on international relations but also wanted to learn more about religion, so I decided to join Prof. Okubo's Seminar in Humanities to earn a sub-major. In class, we gain knowledge of religion and learn how to analyze it while reading texts. We also give research presentations based on our own understanding of the issues. I am interested in the Japanese view of life and death and am deepening my understanding of the topic through discussions with my peers.
Law School Recommendations
Student O, Third-year Law School Student (2019 Department of Law graduate)
You'd think that becoming a judge, prosecutor, or lawyer is impossible for someone like myself who doesn't like to study, wouldn't you?
While there is no denying that studying is hard work, Keio University Law School is a place where you can gain the confidence you need to pass the bar exam, thanks to lectures by some of Japan's best professors and a strong network of alumni. I spent four years at university immersed in student group activities, but now that I am in law school, I work hard every day with like-minded friends to prepare for the bar exam. Of course, student life still offers many fun opportunities to take snack breaks and chat about your favorite music with friends.
If you think the world of law sounds interesting, I hope you consider adding the Keio University Law School to one of your potential future options.
International Student Graduate Interview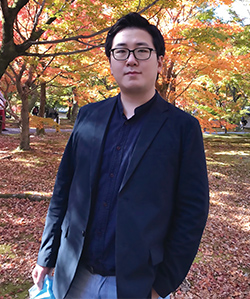 SONG Jaehyun
Associate Professor
Faculty of Informatics, Kansai University
Seoul, South Korea
B.A., Department of Political Science, the facuty of Law, Keio University (Enrolled 2006, Graduated 2012)
Ph.D., Graduate School of Law, Kobe University (Graduated 2018)
I decided that I wanted to study abroad in Japan during my second year of high school, but at the time, I wasn't sure whether I wanted to attend a university or a vocational school. It wasn't until I took a foreign language program after graduating from high school that I became interested in the facuty of Law, Keio University. I immediately recognized that Keio University is one of Japan's leading universities in political science, both in terms of research and education,
especially in terms of the scope of study available at the Department of Political Science. I am now a professor and have taught at several universities, but there are few, if any, in Japan that offer such an extensive curriculum.
Personally, I was most interested in classes on data analysis, such as statistical information processing. This was before the recent data science boom, so class sizes were small and provided an invaluable opportunity for attentive instruction from professors despite the fact that I hadn't joined any seminars. I now specialize in applied statistics in political science and continue to teach data science and political data analysis, working as a colleague of the very professors who taught me at Keio University.