Message from the Dean
Welcome to Keio University's Faculty of Law
The Faculty of Law comprises two departments: the Department of Law and the Department of Politics. Each department has in excess of 2,400 students.
These two departments were once separate entities, with the Department of Law being founded in 1890 and the Department of Politics in 1898. They were subsequently merged in 1920 to form the current Faculty of Law. During its long and distinguished history, the Faculty has built a reputation that attracts exceptional students and academics from around the globe.
In addition to its academic excellence, the Faculty is renowned for producing alumni who have gone on to distinguish themselves in all walks of life, including law, politics, business, journalism and public administration.
We are currently living in challenging times. The world is experiencing environmental degradation, overexploitation of natural resources, extreme disparities in wealth and health conditions, regional conflicts, human rights violations, a worldwide pandemic, and more. These problems, both global and local in scope, are causally related in today's highly interdependent world, and any hope of resolving them must come from collaborative efforts on the part of experts and citizens from all corners of the world.
Keio University is committed to playing its part in this global endeavor, and the Faculty of Law in particular is geared to tackling such issues through the study of these two academic disciplines. However, given the complexity of the problems we face, it is indispensable to employ a multidisciplinary approach as well, and to this effect it is crucial to have a relatively good understanding of other disciplines, from the arts and humanities to the natural sciences.
Fortunately, the Faculty of Law is staffed not only by specialists in those disciplines but also by educators who specialize in areas ranging from history, literature and philosophy to psychology, physics, biology and chemistry. Together, the Faculty provides courses that aim to achieve an ideal synergy of specialized knowledge and liberal arts education.
Finally, competency in foreign languages is becoming ever more important in this day and age. Once again, the Faculty offers an impressive array of language courses that will prepare students to communicate and interact with people from different parts of the world.
I hope you will join us in our endeavor.
Professor Ken Tsutsumibayashi
Message from the Head at Hiyoshi Campus
Four Enchanting Years of Learning from the Best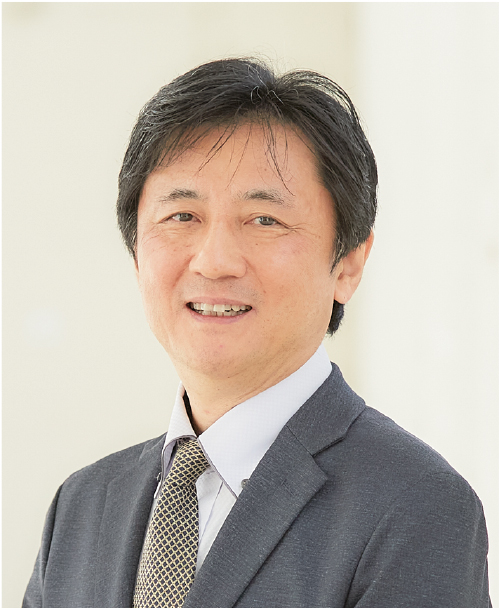 Hello, my name is Norihiro Okubo, and as the Head at Hiyoshi Campus, I am in charge of organizing instruction for the Faculty of Law on this campus.
The pride of the Keio University Faculty of Law is our faculty. They are all masters of their respective fields of study and have honed their character through their studies. These are individuals who completed undergraduate degrees, embraced their ambitions, and went on to graduate school. They have written master's theses and doctoral dissertations, studied abroad, learned foreign languages, collected and read vast amounts of materials, conducted fieldwork, persisted in experiments, presented their findings at conferences, published books, taught new generations of students, and dedicated themselves to academics.
The Faculty of Law is unique in its wide variety of specialists in fields that range from law and political science to humanities, including history, literature, and linguistics, to natural sciences such as physics, biology, chemistry, and psychology. There are also experts in languages such as Russian and Arabic, which are rarely offered elsewhere. Law is connected to everything—jurisprudence and political science are closely related to all kinds of natural and social phenomena, and to reach the top of these fields, you need to adequately broaden your horizons by studying other disciplines that deal with these topics. That is why the Faculty of Law is home to professors who are masters in a diverse range of fields. In your four years here, these masters will show you the joys and the depths of learning, you will absorb the academic achievements of humankind, and through your graduation research and other activities, you will contribute to those achievements. These will be four enchanting years that will hold great meaning for the rest of your life. And the Faculty of Law curriculum has been carefully crafted to provide all of our students with this experience. As you explore this website, try to imagine the enchanting experiences you may have during your four years here.
Sadly, we cannot showcase every member of the Faculty of Law, each of whom is a master of their craft. But be sure that you can look forward to meeting even more masters after your enrollment, and keep an eye out for that look of enchantment as you learn about our current law students. I look forward to meeting you all as you begin your journey here at Hiyoshi Campus.
Faculty Member & Head at Hiyoshi Campus for the Faculty of Law
Norihiro Okubo
Leading The Next Paradigm Shift
We are now living through a generational turning point, one of pandemics, aging and declining populations, turbulent international politics, and an impending climate crisis.
How will people's lives change? What do we want the world to look like? And will the law fit the answers to these questions? What will the policies be, and how will they be decided on and implemented?
These are all issues of jurisprudence and political science.
When "the usual" no longer applies, we need to combine experience with imagination and the ability to go beyond common practice.
While learning leading-edge legal and political science, students also acquire language and liberal arts skills to broaden their perspective and develop insights into humanity.
At the Faculty of Law, we aim to provide a university education that creates the leaders of the next paradigm shift.
The Three Pillars of the Faculty of Law
The Keio University Faculty of Law is divided into two departments: the Department of Law, which specializes in jurisprudence, and the Department of Political Science, which specializes in politics.
Law and politics each work together to shape society.
Students in the Department of Law learn politics alongside their focus on law, and students in the Department of Political Science learn law as they focus on politics.
But simply understanding law and politics is not enough to create the rules of society.
One needs to study the humanities to comprehend history, nature to understand science and technology, and foreign languages to engage in the world.
By organically linking these subjects, the Faculty of Law trains specialist-generalists who can succeed in the international arena.
Learning Outcomes Expected Upon Course Completion
In order to complete their studies at the Faculty of Law, students must not only acquire a specialization in law and political science but must also study a wide range of liberal arts so that they can help create a new society from an international perspective and help lead it into the future—the founding spirit of the university.
In the Department of Law, students are expected to acquire the ability to perceive social phenomena from a legal perspective and make flexible and accurate judgments. In the Department of Political Science, students are expected to develop the ability to accurately analyze historical and contemporary social issues from a political perspective and to make creative and comprehensive judgments.
Hiyoshi Campus & Mita Campus
Hiyoshi Campus
First- and second-year students of the Faculty of Law study at Hiyoshi Campus. This un-gated campus sprawls some 360,000 square meters as an open extension of the community where it is located. Seven faculties send their first- and second-year students here, and three of Keio's most specialized graduate schools call Hiyoshi home.
4-1-1 Hiyoshi, Kohoku-ku, Yokohama, Kanagawa 223-8521 Japan
Click here for contact information(Japanese)
Tokyu Toyoko Line, Yokohama Municipal Subway Green Line
1-minute walk from Hiyoshi Station
Mita Campus
Third- and fourth-year students study at Mita Campus, a location steeped in history and tradition. The Mita Public Speaking Hall (Mita Enzetsu-kan) is an Important Cultural Property, and the red brick of the Old University Library building radiates an academic atmosphere.
2-15-45 Mita, Minato-ku, Tokyo 108-8345 Japan
Click here for contact information(Japanese)
5-minute walk from Tamachi Station (JR Yamanote Line / JR Keihin-Tohoku Line)
7-minute walk from Mita Station (Toei Asakusa Line / Toei Mita Line)
8-minute walk from Akabanebashi Station (Toei Oedo Line)
Keio University Faculty of Law Welcome Video