Selection of Seminars in the Department of Law
Hirotaka TADAKA Seminar [Civil Law]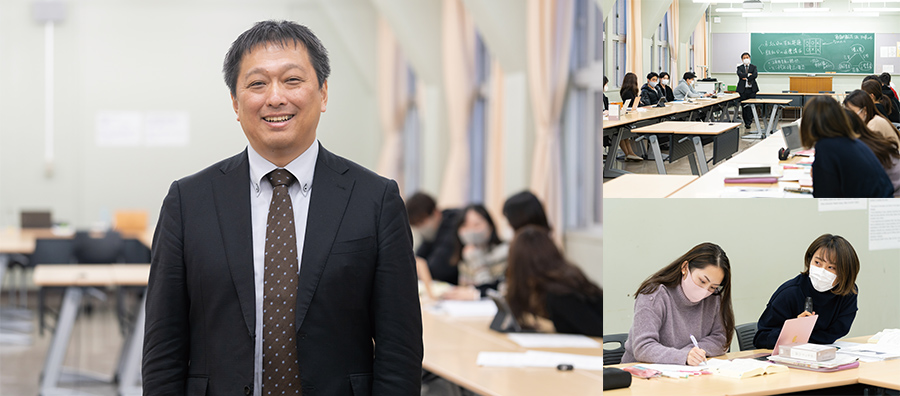 The Civil Code was created to provide a means for resolving disputes that may arise in various aspects of our daily lives, such as buying or selling, renting, compensation for damages, marriage, and inheritance, as well as more familiar situations such as taking the train or staying at a hotel.
In this seminar, students gain insights into society today by studying and discussing various court cases. In the process, they gain an accurate overview of civil law and the challenges involved in dispute resolution.
They will learn how to assess complex and intertwined interests in a case to see the essence of issues and understand the background circumstances. They will discuss opinions with each other and analyze the claims and opinions outlined in these court cases, including the arguments of opposing parties, namely the plaintiff and the defendants, and the verdicts for different counts in the same case.
Through such independent learning, we hope that students will acquire a legal mind that enables them to view issues objectively and from multiple perspectives and to think logically. Above all, we aim to provide an environment where students can form new friendships through group activities, including field trips, sports, and social gatherings.
Akimasa YANAGI Seminar [Corporate Law]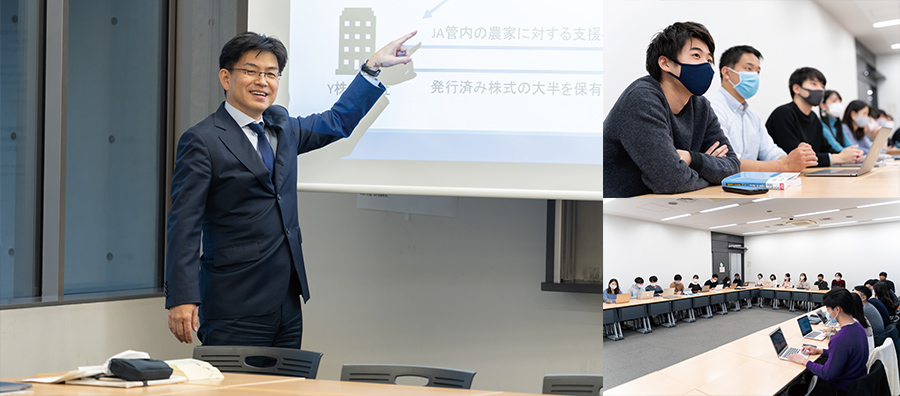 Study groups at our University are called "seminars." The word is derived from the Latin word seminarium, which means nursery or seed-bed. We try to make our research activities as rich and broad as possible.
The activities of our seminar consist of two pillars. The first pillar is mastering the reading of precedents, which is required for the study of jurisprudence. Students study historical cases from at least two opposing sides of the argument to gain a perspective from different points of view. The other pillar is the study of contemporary themes, so our students will be able to find solutions to social issues today without being restricted by the existing framework of jurisprudence.
In recent years, we have studied the legal and regulatory framework for cryptoassets, a topic first suggested by a seminar student when ICOs first started ("Initial Coin Offering" for cryptoasset fundraising). The Keio tradition is one of "Learning While Teaching, Teaching While Learning," with students and instructors joined together on a journey of discovery and self-development.
In these uncertain times, it is a modest source of joy for us to nurture the vibrant talent of our students to help them grow and develop for the future.
Misa KIM Seminar [Civil Procedure]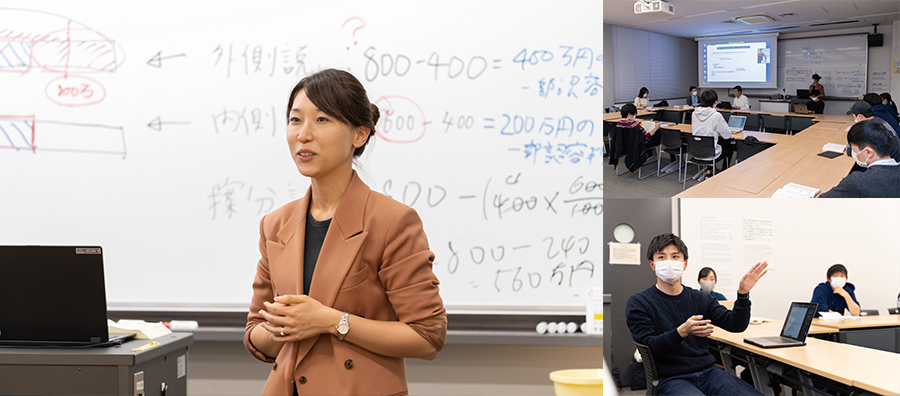 In this seminar, we study civil procedure.
Civil litigation is used when irreconcilable disputes over assets arise between private parties as a clearly defined system to ensure such disputes are properly resolved.
For example, failure to admit important pieces of evidence may lead to a wrongful verdict that is contrary to the facts. If litigation is considered excessively time-consuming, people may be reluctant to use it, and thus problems may be left unaddressed and unresolved. Moreover, there is a risk that losing parties may look to reopen a dispute if they remain unconvinced about a ruling after it has been passed.
The civil litigation system is designed to prevent issues like these and to resolve disputes in a fair and speedy manner.
The purpose of this seminar is to aid a deeper understanding of the varied workings of the civil litigation system based on interactive discussions between faculty members and students.
Keigo KOMAMURA Seminar [Constitutional Law]
My seminar covers constitutional law. Constitutional law is a broad-based field of study that covers freedom and equality, the renunciation of war, the emperor of Japan, the Japanese state, and the world order. It is a topic about which students have wide-ranging opinions and passionate feelings. So, as you can see, it is a large seminar. Constitutional law tends to be an abstract topic for discussion. Therefore, this seminar focuses on court cases. We divide the group into plaintiffs and defendants and try to use everyday language as much as possible in our discussions. Our discussions are not formal. Rather, we aim to have lively conversations, complete with killer blows and plenty of humor! Based on the raw details of a court case, students learn how to think like a judge. This is a high-level position in the legal profession and requires the development of advanced legal knowledge. Students will aggressively challenge each other's views of the world, their outlook on life, and any information they use to support their case, and may even come close to trading blows with each other. But once it is all over, they respect each other as worthy opponents and will have a drink together. These are the types of human connections that we cherish.
Takahiro SUGITA Seminar [Commercial Law]
In this seminar, we study commercial and corporate law. We consider issues such as whether a representative director can be given responsibility for determining the remuneration of other directors or whether the directors can issue new shares to dilute the holding of a shareholder if a dispute arises between the directors and the shareholder. Resolving such issues requires an interpretation of the provisions of the Companies Act that stipulate that directors' remuneration is determined by the company's articles of incorporation or by resolution of the shareholders' meeting, or provisions whereby the issuance of new shares is at the discretion of the board of directors. These may seem like obscure technicalities. However, these can translate into real-world issues if a company president with an established track record seeks to impose his or her will on other directors or if a major shareholder disagrees with the directors over a management policy. When interpreting an article, we need to go back to the reasons as to why the provisions are in the article in the first place (legislative intent). In this seminar, we focus on various issues and precedents in commercial and corporate law, which form the basis of discussion and consideration by all the participants.
Shinobu OHAMA Seminar [Civil Procedure]
Disputes over assets, or financial disputes related to debts, are a problem all over the world. But in recent years, family disputes relating to divorce or children's rights have also increased. These are known as civil disputes. There are various ways to resolve these disputes, and the most basic of these is civil litigation. Civil litigation settles civil disputes through the delivery of a strict judicial decision, known as a judgment. The Code of Civil Procedure is a law that establishes procedures for civil litigation. The essence of civil litigation is that proceedings are conducted properly, impartially, promptly, and economically. This perspective is also crucial for researching civil procedure. In this seminar, we study civil procedure with a particular focus on precedents. We also participate in joint seminars with civil procedure law seminars from other universities. Last year's joint seminar brought together 17 seminars from 15 universities. Seminars are a kind of collaboration and a place where you can meet friends that will last a lifetime. We invite you to join us in the study of the Code of Civil Procedure.
Tatsuya OTA Seminar [Criminal Justice, Victimology]
How can we create a safe, low-crime society? Criminal Justice studies is the study of crime prevention from the perspective of legal policy. 99% of the law studied at the Faculty of Law is legal hermeneutics, which is the application of the law based on the interpretation of positive law (man-made laws), including criminal law and criminal procedure. However, simply punishing criminals in accordance with due process does not guarantee the safety of society. To begin with, we need to consider the penal system to establish, the type of punitive measures to impose, and what education and processes to incorporate in the administering of punishment from a legal perspective.
In this seminar, we visit prisons and juvenile reform schools as part of our studies of the theories of the judicial system. Today, support for victims of crime and improvement of their legal status in criminal proceedings are also important issues for the criminal justice system. Our seminar also investigates the actual effects of victimization and how to provide support for victims of crime.
Tamesaburo YAMAMOTO Seminar [Business Law]
The subject of study in this seminar is commercial law, sometimes known as corporate law. (Corporate law encompasses the Companies Act, the Financial Instruments and Exchange Act, general corporate law, corporate transactions law, insurance law, maritime corporate law, payment settlement law, etc.) Each participant presents a topic set out by the faculty member in charge of the seminar or concerning a case that has been published in the past year. Participants develop the ability to think legally through question-and-answer sessions based on these topics. Students are also actively involved in external activities, such as the Keio-Waseda Debate and inter-university debate training camps (between the five universities of Sophia, Chuo, Hitotsubashi, Waseda, and Keio). Here they learn debating skills and experience the emotional highs and lows of debating for themselves. We also provide opportunities to visit the Bank of Japan and the Tokyo Stock Exchange to gain hands-on experience in professional business environments. We aim to be a group that respects individuality and fosters friendship. The fundamental principles of jurisprudence are independence and self-respect because serious debate can only occur in an environment of mutual respect.
Norihisa YOSHIMURA Seminar [International Tax Law]
The number of companies and individuals that operate on a worldwide basis continues to increase as the world economy becomes more globalized. In such a global economic environment, thriving businesses and individuals strive to achieve wealth or growth by developing international tax strategies to minimize tax burdens and maximize their after-tax profits. The goal of this seminar is to develop human resources who can formulate international tax strategies and provide appropriate solutions to domestic and international tax issues in the private sector, as well as human resources with policy-making and legislative skills who can deal with complex tax avoidance activities at the national level. Specifically, we analyze tax avoidance schemes such as the "Double Irish with a Dutch Sandwich" or the "Stepping Stone Strategy" and develop students' problem-solving capabilities through examining topics in a mock trial format, such as potential issues with the application of anti-tax haven measures or transfer pricing tax rules.
Masanori YABUMOTO Seminar [European Legal History and Philosophy]
The stereotypical image of a law student is someone wrestling with complex legal questions with a vast volume of the Six Legal Codes of Japan in their hand! Apart from positive law, which deals with the application and interpretation of existing laws, there is a field of study in jurisprudence called basic jurisprudence, which starts with the consideration "What is law?" History of European Law is a field of basic jurisprudence that considers this fundamental question by examining the history of European law, which served as a model for the modernization of the law in Japan. As the legal proverb goes, "Wherever there is society, there is law." Laws change as society evolves. This seminar gives students an insight into dynamic changes in the law and history.
Go KOYAMA Seminar [Constitutional Law]
My seminar focuses on fundamental human rights and constitutional law. Theory and practice are two aspects of jurisprudence. In the third year, students acquire critical legal thinking skills for constitutional law through report sessions in which precedents and legal theories are analyzed in detail in terms of constitutional rights (such as freedom of expression and the right to life) and discussion sessions in which students discuss actual cases from a constitutional or non-constitutional position, covering topics such as restrictions on discriminatory expressions and weakening welfare systems. In the fourth year, in addition to attending joint seminars on topics that include governance, the parliamentary cabinet system, and local governance (spring semester), students work on their graduation thesis (fall semester).
Students also lead busy lives outside their studies. They take part in a welcome camp for new third-year students in the spring, an intensive summer study camp that gives them a range of valuable experiences in the summer, and a winter alumni meetup. We help them grow and develop, and their progression into adulthood shines through clearly in their faces at the end of the year!
Juro IWATANI Seminar [Japanese Legal History and Philosophy]
Japanese people will naturally be familiar with the laws of Japan. Therefore, it's reasonable for them to think that there are more exciting topics to study than the history of Japanese law. From its location in the Far East, Japan has imported various legal systems from countries with different linguistic and cultural origins, such as China and Korea, since ancient times and Western countries since the late 19th century. There has always been a struggle between "native" and "foreign" in Japan, which has tended to complicate Japanese law. Lively discussion is a key feature of my seminar. We look at the latest legal and social issues and explore how these are intertwined with various cultural phenomena such as history, ideology, philosophy, and religion. Complexity can also be a source of rich diversity. Based on the wide variety of opinions expressed in this seminar, we consider Japanese law in a new light.
Keigo KOMAMURA Seminar [Constitutional Law]
My seminar covers constitutional law. Constitutional law is a broad-based field of study that covers human rights and equality, the renunciation of war, the emperor of Japan, the Japanese state, and the world order. It is a topic about which students have wide-ranging opinions and passionate feelings. As you can see from the picture, this is a very popular seminar! Unlike other legal disciplines, constitutional law involves a lot of discussion of abstract and ideological issues. It is also difficult to satisfy the diverse expectations of a large group of students in one seminar. Therefore, this seminar focuses on court cases relating to freedom and equality. The group is divided into plaintiffs and defendants, and we try to use concrete, everyday language as much as possible in our discussions. Our discussions are not formal. Rather, we aim to have lively conversations, complete with killer blows and plenty of humor!
Gentaro KAMEI Seminar [Criminal Law and Criminal Procedure]
This seminar focuses on the study of criminal law and criminal procedure, the body of law that covers crimes and punishment. The former defines what constitutes a crime, while the latter is the set of rules governing the process of determining whether or not an act constitutes a crime (and, if so, what kind of punishment is appropriate). It is quite rare to have a seminar that covers both criminal law and criminal procedure. However, certain concepts in criminal law can sometimes only be properly understood when considered in conjunction with aspects of criminal procedure. For students studying to become lawyers, this seminar aims to deepen their understanding of various issues in criminal law and criminal procedure. Our goal is to help students aspiring to work in the private sector to acquire the skills and habit of considering issues from a broad perspective.
Michiyo MAEDA Seminar [Latin American Law]
The theme of this seminar is Latin American Law. Law seminars cover a wide range of topics, but the subject matter of this seminar is truly unusual and unique. The formation and operation of the law is deeply related not only to the actual interpretation of the text but also to the history and culture of a country or region. The aim of this seminar is to consider the laws of Latin America based on a comprehensive understanding of regional culture, and to take a fresh look at Japanese law on a comparative basis. Latin American countries have inherited laws from the West as well as from Japan. Therefore, Latin American law has much in common with the legal systems of these two regions. A knowledge of the law studied at Hiyoshi and of the Spanish language is sufficient for an understanding of Latin American law. Students also undertake fieldwork: based on interviews with Japanese-Brazilians and Peruvians in Japan, they extend the study of the law to living, working, and family in Japan.
Takuma SATO Seminar [Criminal Law]
The study of criminal law can be divided in two parts: general criminal law, covering broad issues related to crime and punishment, such as "What is the purpose of punishment?" "What is the essence of crime?" and "What are the conditions for a crime to be defined as such?" and special criminal law covering the conditions for individual crimes such as murder, theft, robbery, or arson. General criminal law involves highly abstract and complex arguments, while specific criminal law involves subtle interpretations of the law that maintain a balance between the limits imposed by what is written in a legal provision and the requirement for punishment. Students learn about criminal law in their first and second year lectures. In this seminar, they further deepen their understanding through the study of actual court cases and by reading specialized books. Criminal law is often considered to be of limited use beyond the bar exam, but it is an excellent academic discipline for the development of critical thinking capabilities and a balanced legal perspective that can accommodate highly abstract discussion. Around half of the students in this seminar start work after graduating, while half go on to law school.
Go KOYAMA Seminar [Constitutional Law]
The Koyama Seminar studies constitutional law, and is now in its ninth year. The format of the seminar alternates between reports and debates, with the aim of deepening students' general knowledge of the constitution and developing their ability to find solutions to specific cases. "Theory" and "facts" go hand in hand. It is important to study theory while maintaining awareness of the specific facts of cases, and to consider solutions for specific cases while staying in touch with general theory. Students begin the seminar in April and make great strides in their development by the time fall comes around. By this time they are well on the way to becoming persuasive debaters. In addition, seminar camps are held in spring and summer to aid study and deepen the ties of friendship among seminar students. An alumni meetup is also held in winter to give participants an opportunity to interact with past students.
Yuko KIMIJIMA Seminar [Intellectual Property Law]
Intellectual property law is the body of law that protects the results of intellectual and creative activities, such as works and inventions, as assets. This also applies to marks or names that are used to identify businesses, such as brands developed through sales activities. As with any developed country, this area of the law is critical in terms of Japan's ability to compete in the global market through the protection of advanced technological capabilities and high value content. In this seminar, students mainly focus on patent and copyright law, discuss court cases, and express opinions on these through the Socratic approach. At our summer camp, students work in small groups. They prepare in advance, present their research reports, and take part in joint question-and-answer sessions afterwards. In their fourth year, students write a graduation thesis on a topic of their own choosing.
Philipp OSTEN Seminar [International Criminal Law]
International criminal law is a relatively new academic field that considers criminal law, which governs criminal acts and the punishment of these acts, from an international perspective. It covers a broad range of topics from the historic Tokyo Trials to the International Criminal Court (ICC) today, as well as familiar themes such as crimes committed in Japan by foreigners who then flee back to their home countries, for instance after committing a hit and run or a murder.
Very few seminars in Japan at the moment specialize in international criminal law. This seminar, which was established in 2004, was actually the first of its kind in Japan. In this seminar, the instructor and the students work together to study a subject that is still not particularly well understood to acquire the legal skills required for the global society of the future.
Chikako SUZUKI Seminar [Corporate Law]
In this seminar, we study corporate law, the body of law that covers the operation, financing, and merger and acquisition activity of companies. There are around 20 students in the third and fourth year. The year groups are subdivided into smaller groups. Students work on weekly assignments as a group, preparing their research and bringing it to class every week, deepening their understanding of the subject through essays, question-and-answer sessions, and class discussions.
We teach them how to retain and remember what they are taught in class, collaborate with each other if they don't understand something, and develop the skills for effective studying on their own. The students also participate actively in social events and residential study camps. They get to know each other and form deep, long-lasting ties of friendship.
Junichi AOKI Seminar [Administrative Law]
Anyone who drives a car or rides a motorbike must have a license issued by the Public Safety Commission of a prefecture. The government sets public train and bus fares (Minister of Land, Infrastructure, Transport and Tourism and the Director General of the Regional Transport Bureau). National and local government bodies are deeply intertwined in the social systems of our daily lives. Administrative law is concerned with the reasons for the existence, structure, and function of such social systems from a legal perspective, based on a consideration of the relationship between administrative bodies and citizens.
We all have different standards of living, customs and values. Seeking optimal solutions from a diverse range of unspecified relationships between administrative bodies and citizens requires the imagination to explore key issues and a balanced perspective to assess the facts. Students develop these qualities further through studying administrative law and utilize them in their lives as they contribute to society.